🌟 It's time to shine a spotlight on our incredible educators and students! You have ONE more day to nominate!🌟 We're excited to announce our Spotlight Teacher program, where we celebrate the dedication and passion of our outstanding teachers! 🍎✨ Do you have a teacher who has made a significant impact on your life or your child's life? Nominate them for the Spotlight Teacher award! 📝👩‍🏫👨‍🏫
https://forms.gle/Yf12LRPimJLw3a9M8
THESE TEACHERS AND STUDENTS WILL BE FEATURED IN A NEWSLETTER AND THE MONTHLY BOARD MEETING TO SHOW THE OUTSTANDING IMPACT THEY HAVE ON THE COMMUNITY AND SCHOOL.
****XC UPDATE****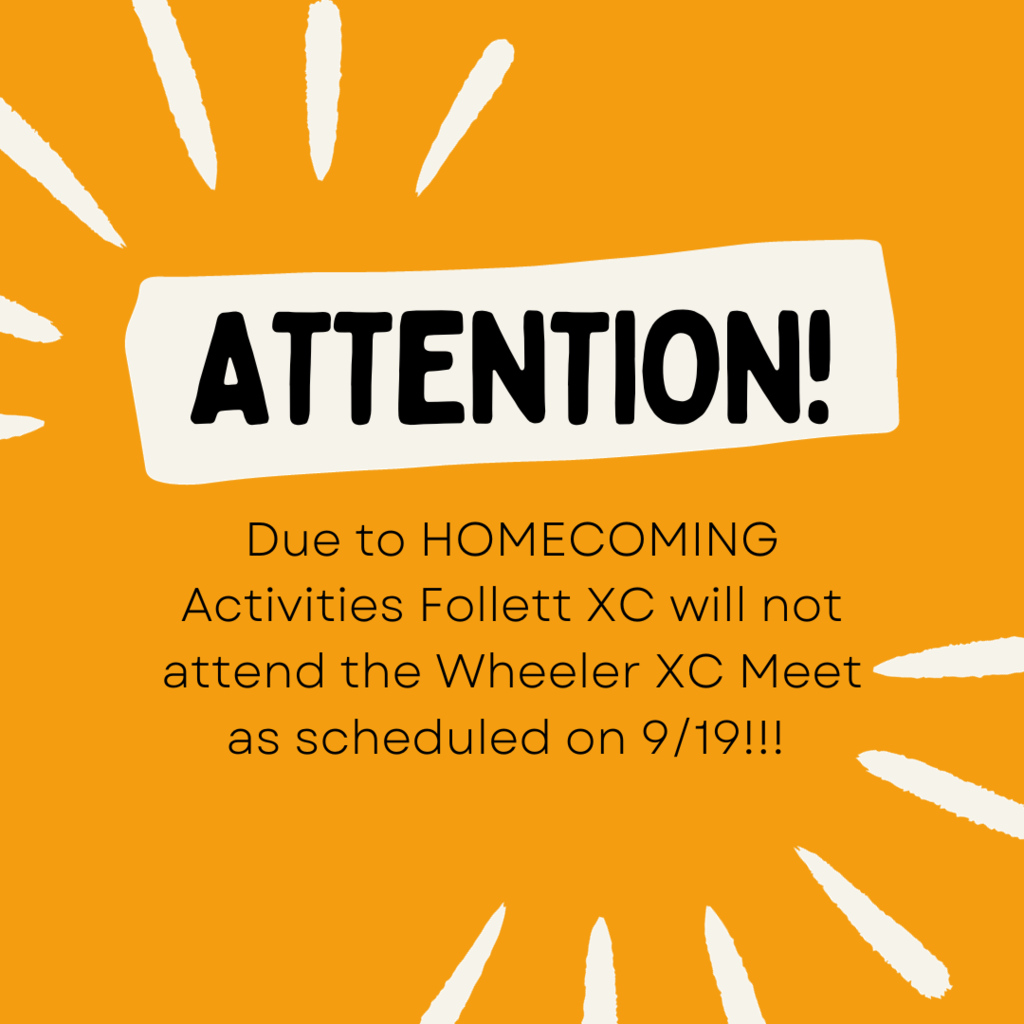 🌟 It's time to shine a spotlight on our incredible educators! You have 6 more days to nominate!🌟 We're excited to announce our Spotlight Teacher program, where we celebrate the dedication and passion of our outstanding teachers! 🍎✨ Do you have a teacher who has made a significant impact on your life or your child's education? Nominate them for the Spotlight Teacher award! 📝👩‍🏫👨‍🏫
https://forms.gle/Yf12LRPimJLw3a9M8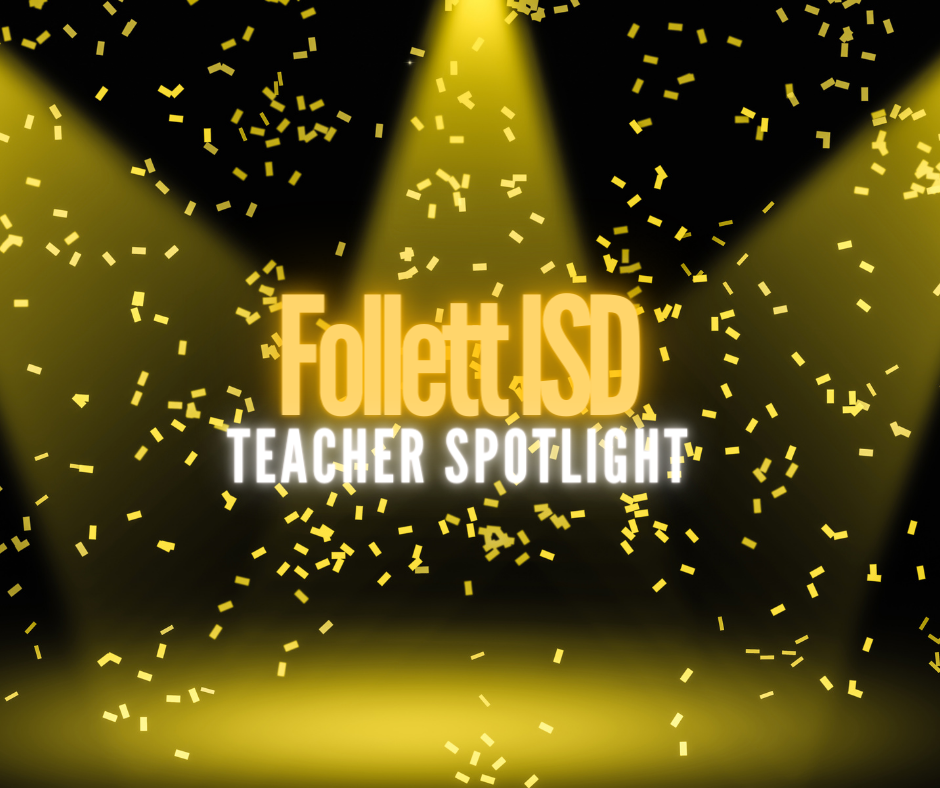 Game Day!!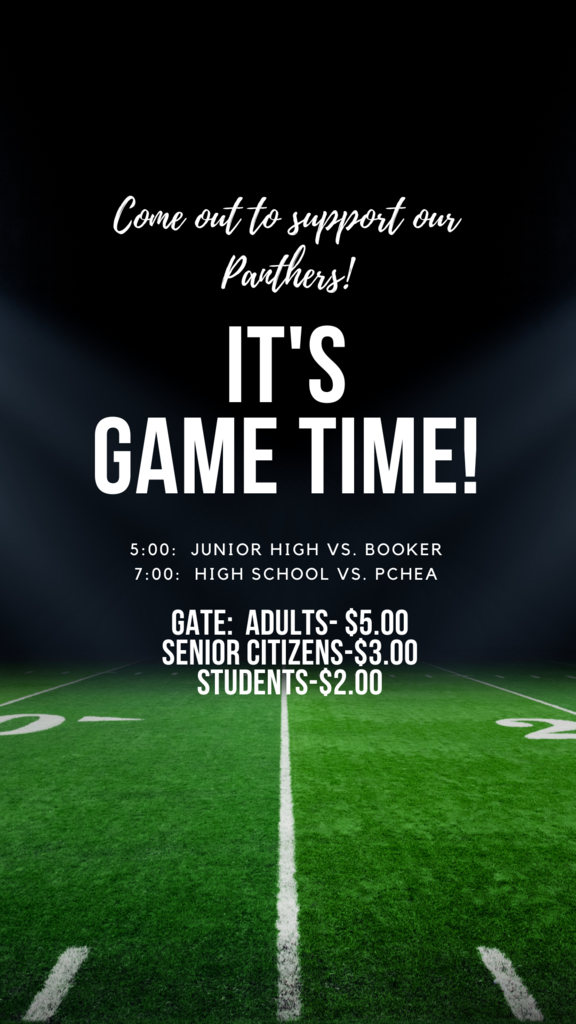 Happy Labor Day! Don't forget to nominate your September Teacher of the Month!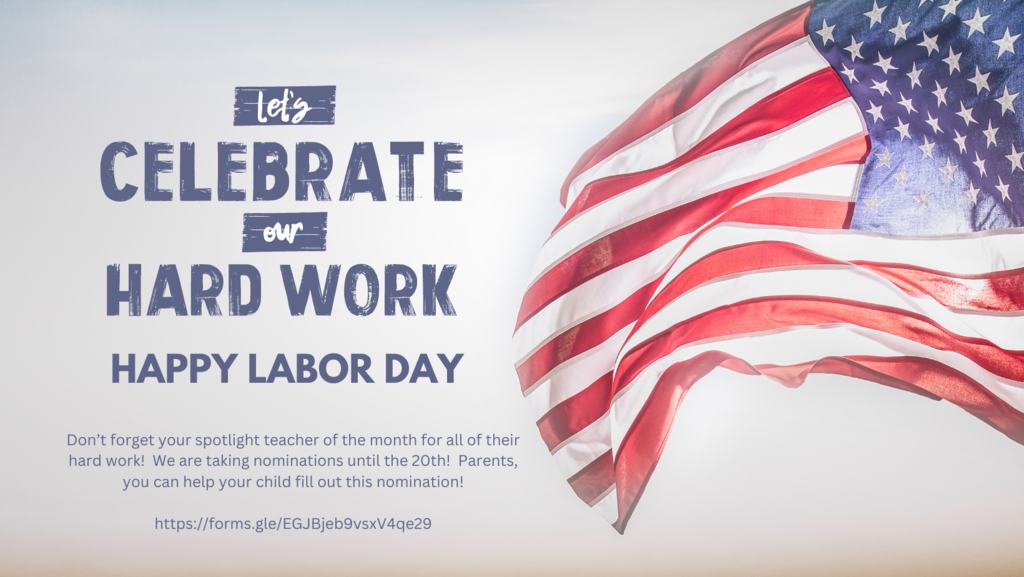 Junior Class Meeting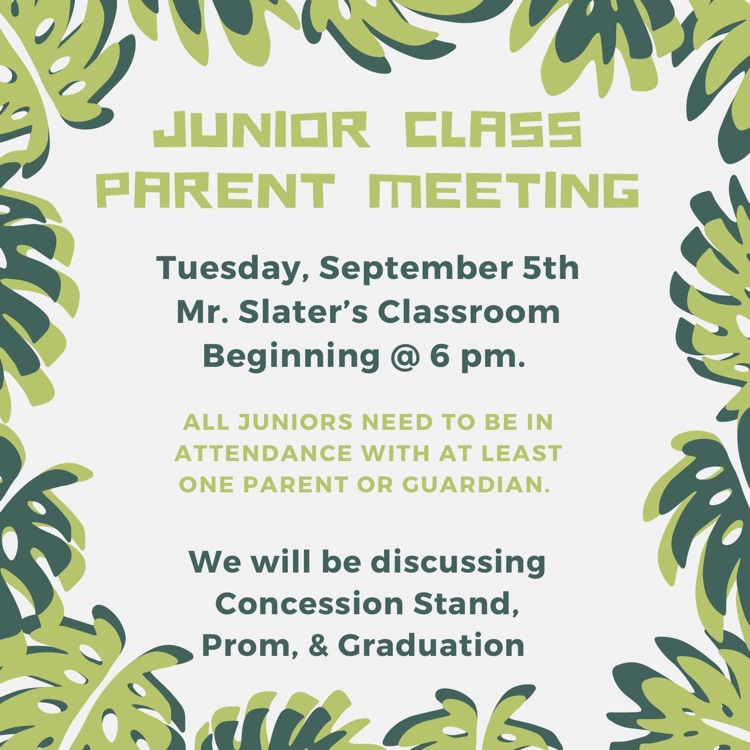 September 5th @ 6:30: Senior FAFSA Night
The JV game tomorrow night at 5 pm has been cancelled. Varsity game will still begin at 7 pm.

CORRECTION: Football Update: JV will scrimmage Darrouzett TOMORROW, August the 11th at 5:00 p.m. Come out to support our Panthers! 🏈
Breakfast and lunch menus for August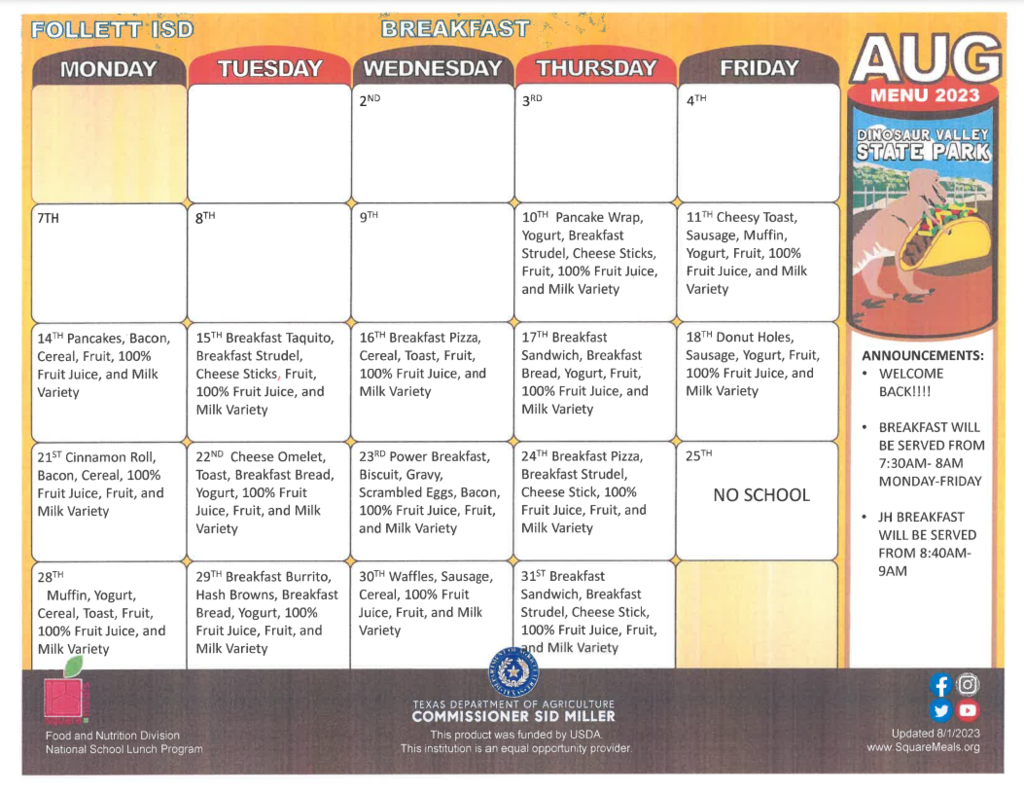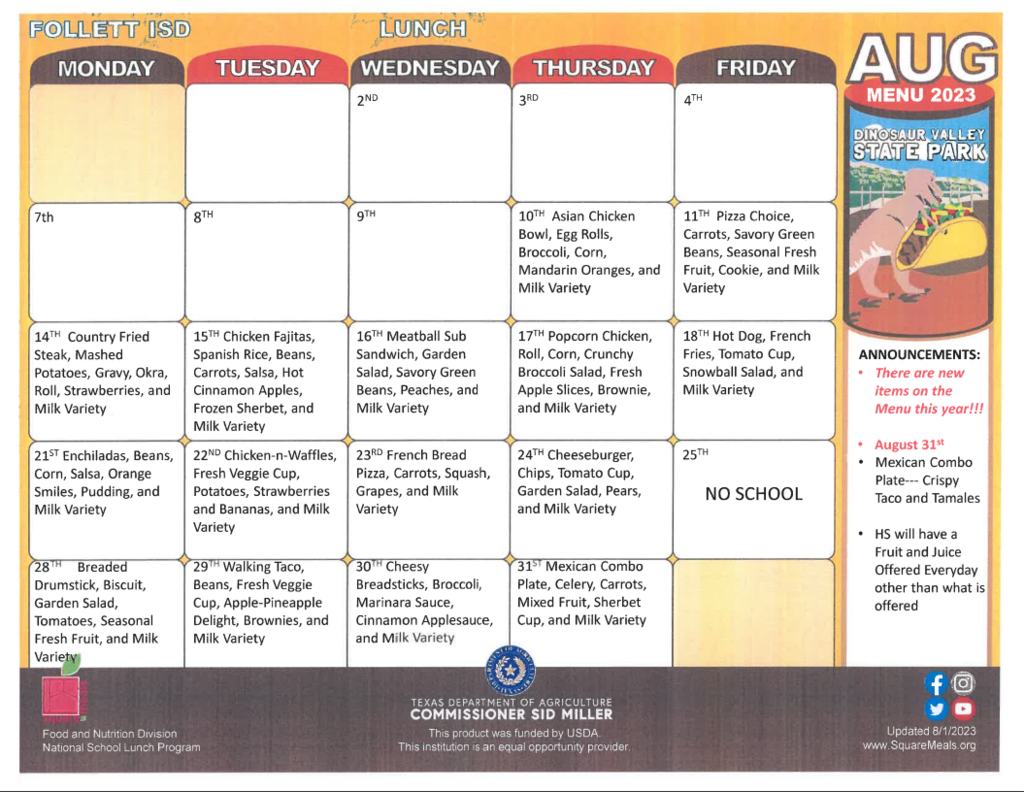 We do not want to leave this new amazing Panther Out!! We are blessed and excited to have Conni Nelson joining our team!

Welcome the new teacher and staff at Follett ISD! Welcome to the Panther Pride!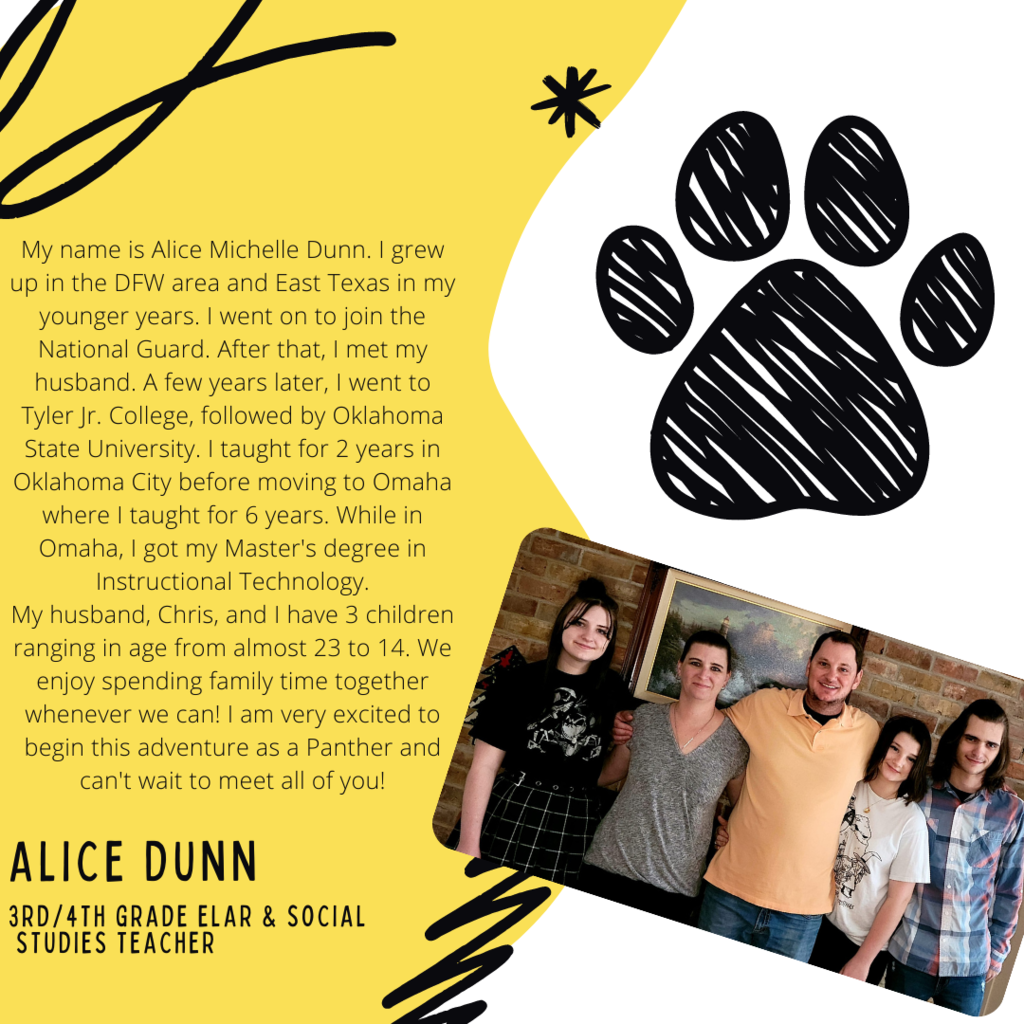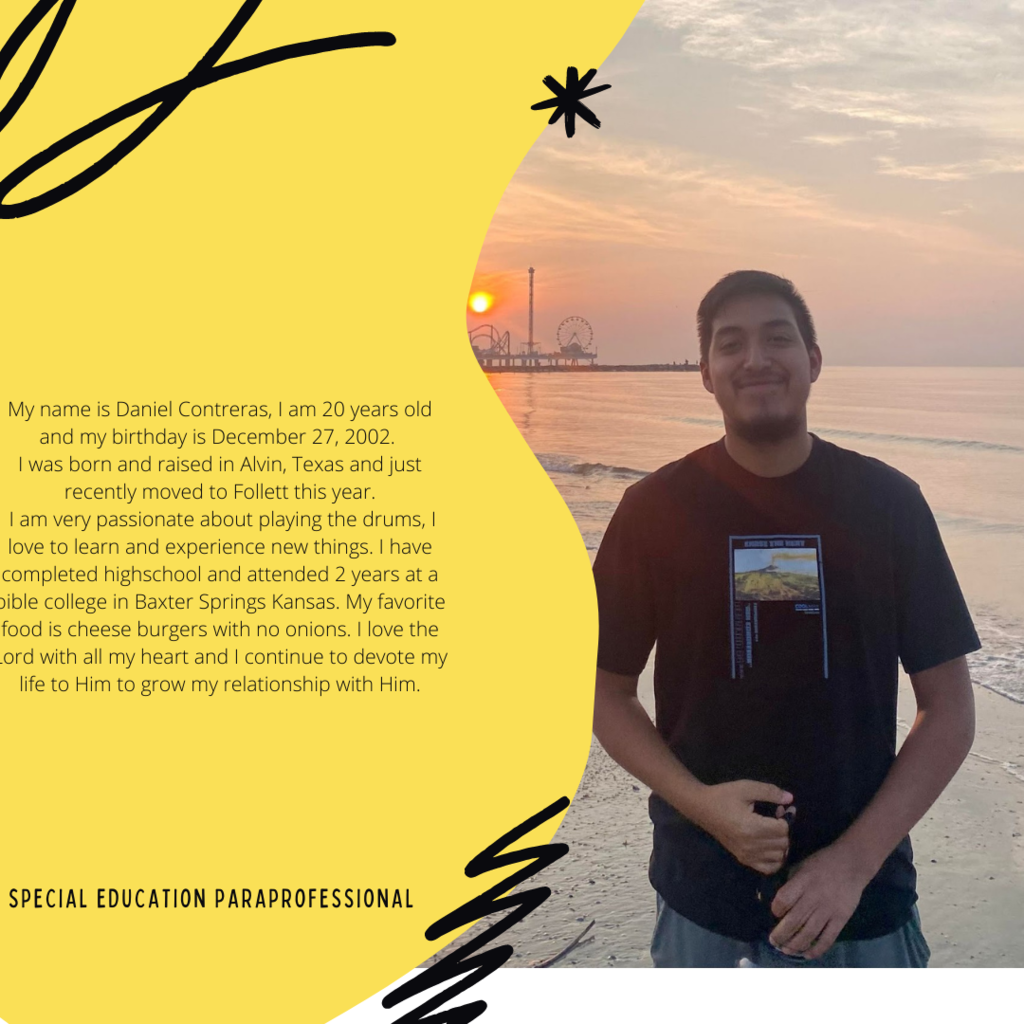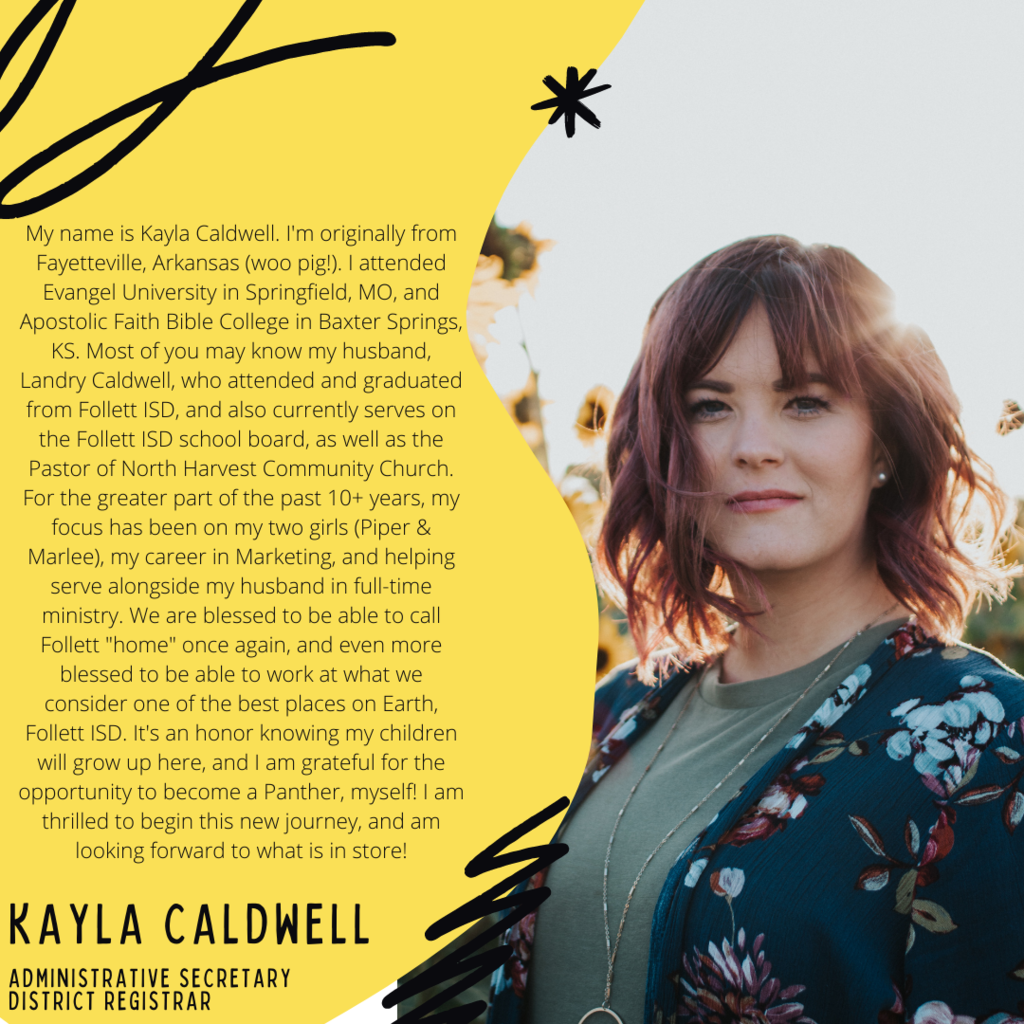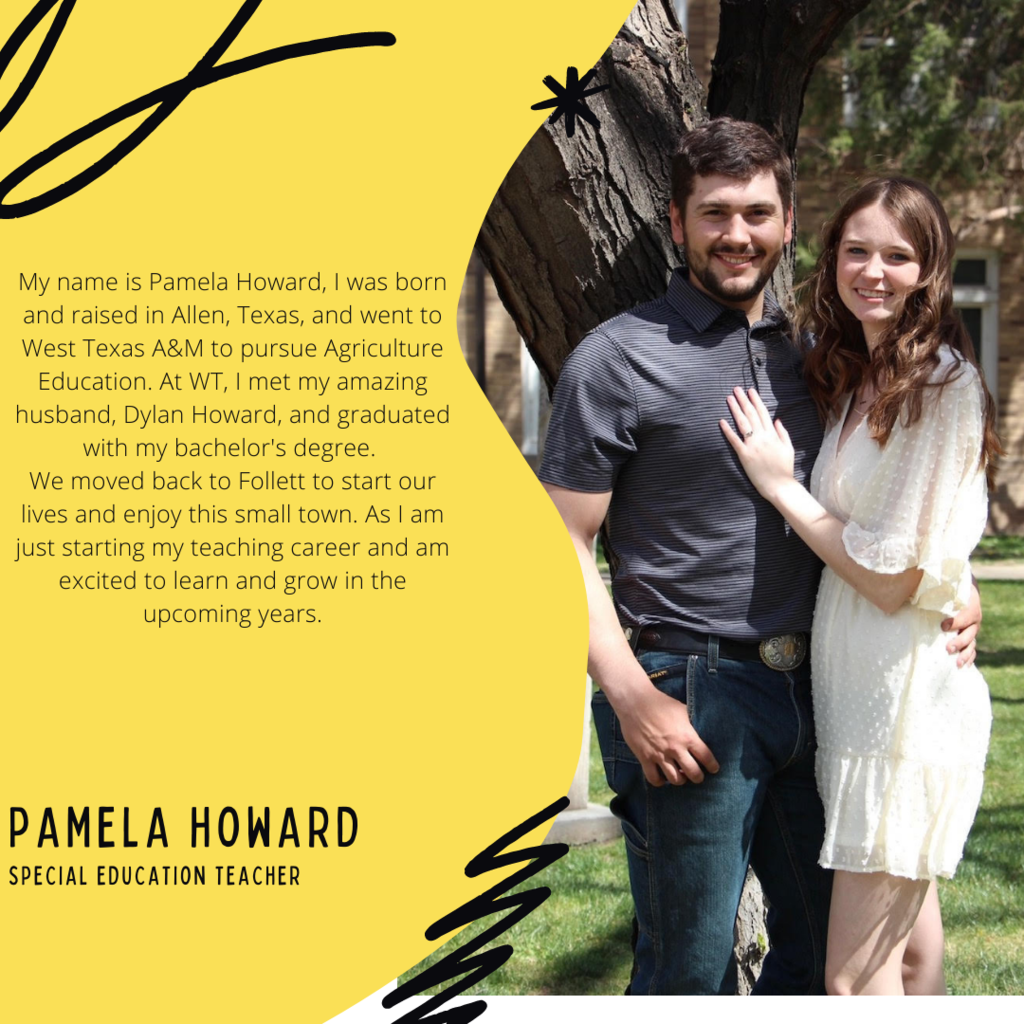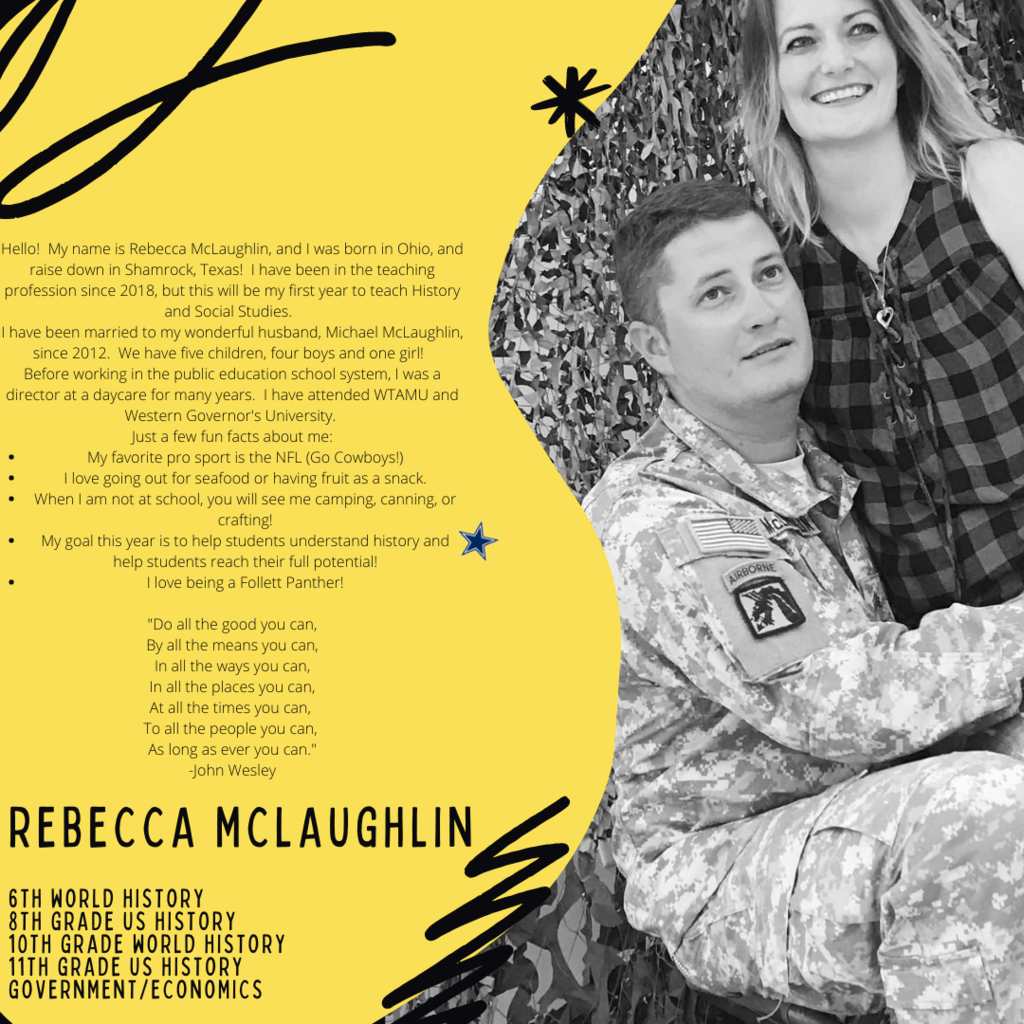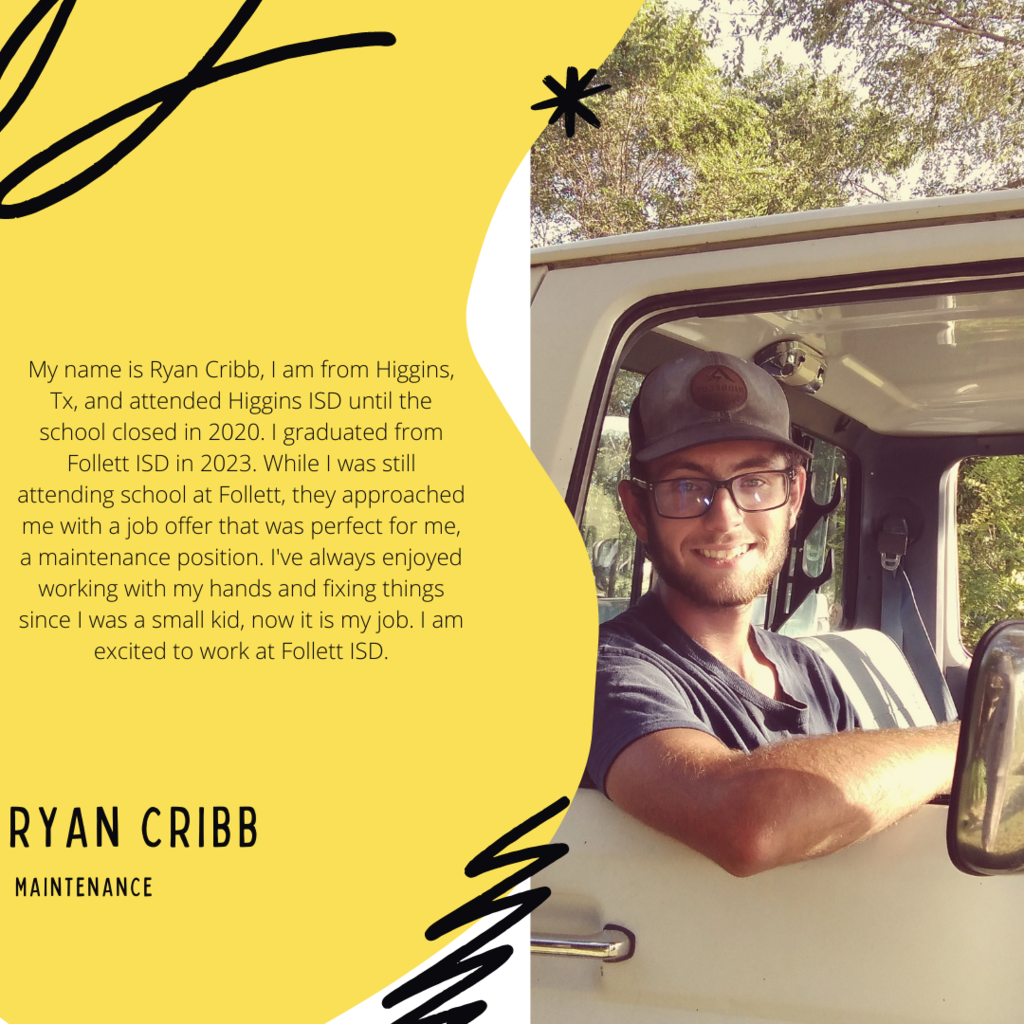 2023 Football Schedule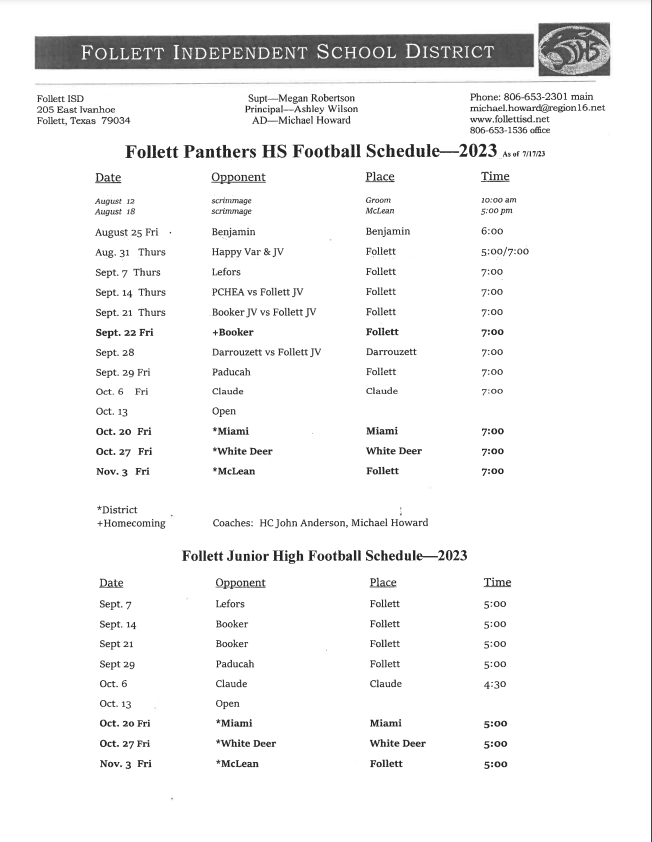 Online Registration Instructions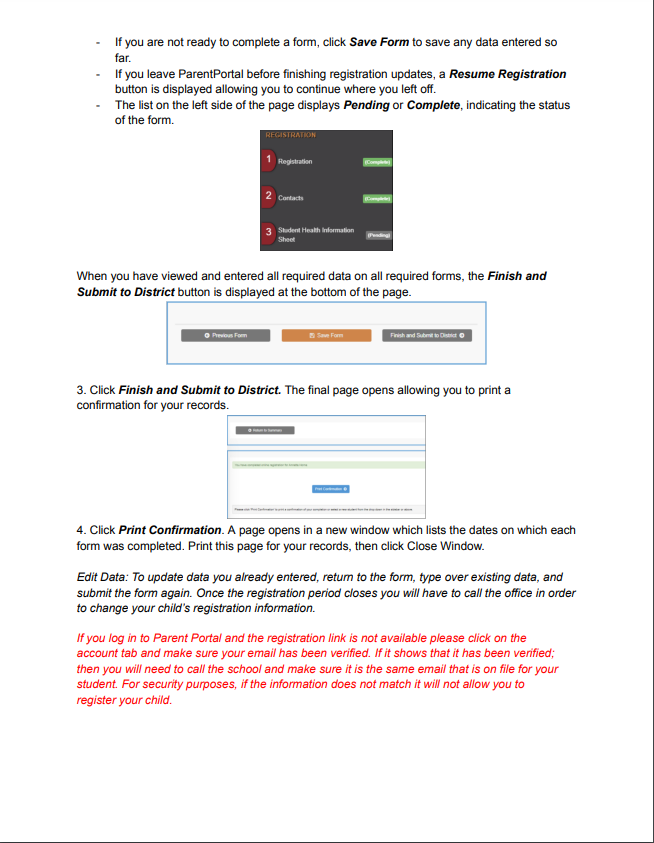 Countdown: 41 days till we get to use our new scoreboard to kick off our first home football game in 2023. Thank you Interbank for everything you do to support our community, staff and especially our students.

Incoming Athletes!

I can't believe we are almost at the start of the 2023-2024 school year! Here are the School Supply Lists for the upcoming year! If you would like a paper copy, we will leave the lists at the grocery store, the post office, and up at the school!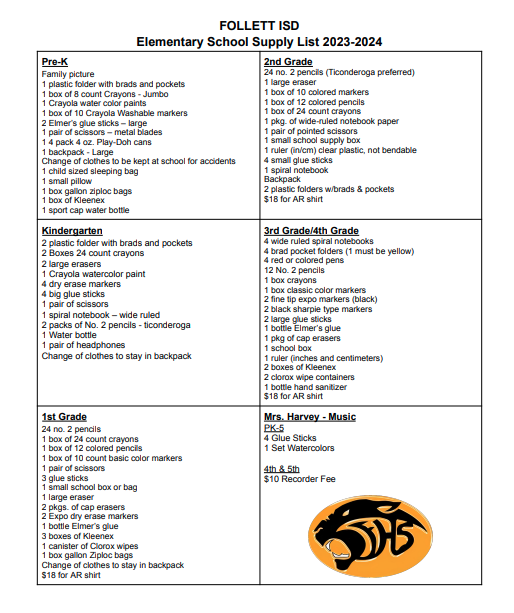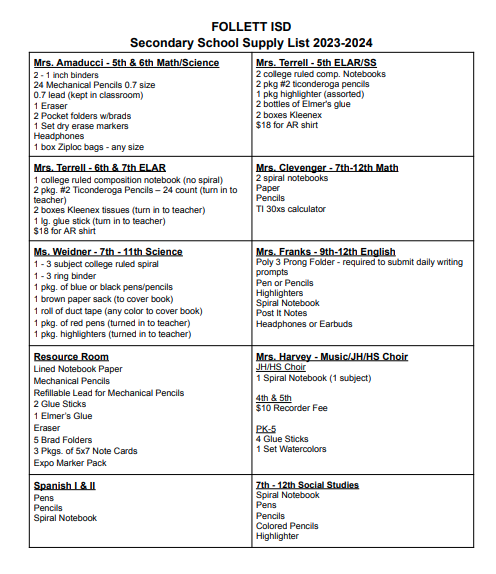 The Follett School Supply Lists have been revised for the 2023-2024 school year.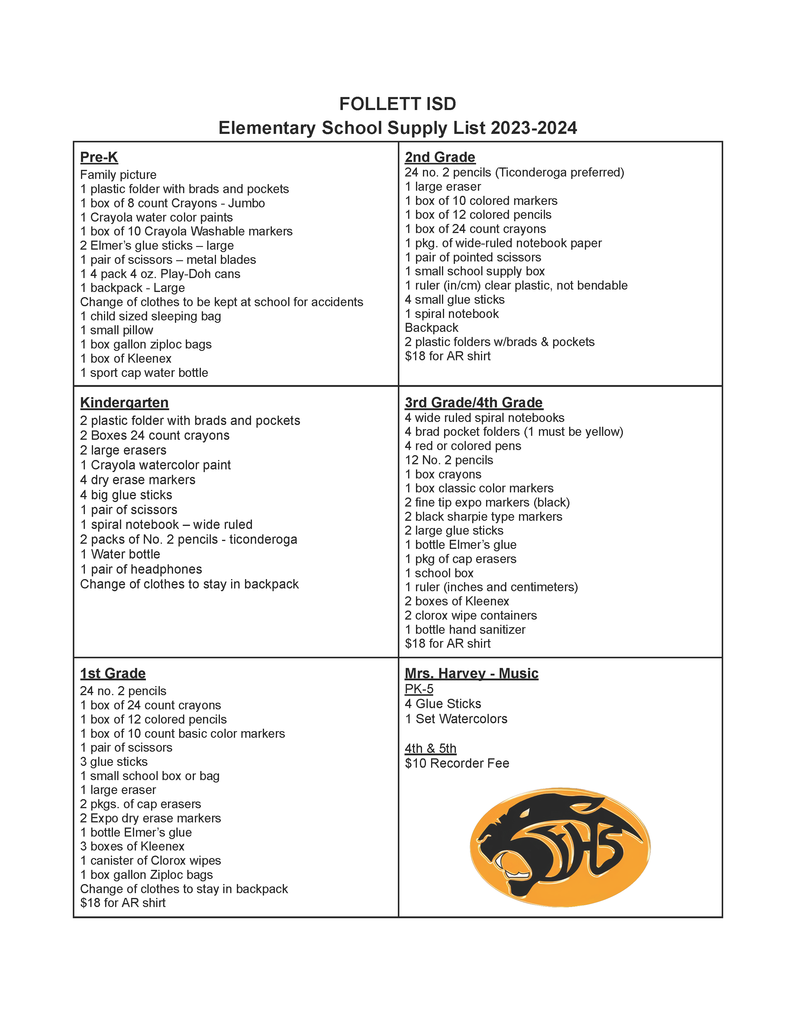 The 2023-24 School Calendar has been updated to accommodate a Football game that requires significant travel time.